Deluxe Sandwich Tray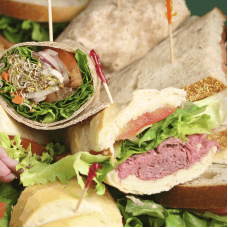 A variety of our signature sandwiches (choices at bottom of page) on a variety of breads (croissant, onion roll, kaiser roll, white,wheat & lavash) accompanied by your choice of 2 gourmet salads.
Includes dill pickles, pepper rings & olives.
Gourmet Salad Choices: Chicken wild rice, red skin potato salad, old fashioned potato salad, pasta primavera, greek pasta salad, tuna pasta salad, turkey pasta salad, greek salad, garden salad, caesar salad, coleslaw, low fat cabbage salad, fattoush or fava bean salad.